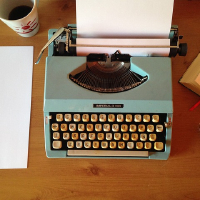 Al Kinley-Jones
Writer and filmmaker. Father. Obsessive new year's resolutioner.
Freelance copywriter
I'm a freelance copywriter in Oxford, with extensive experience writing, editing and proofing a range of content, including for digital spaces.
I've worked on everything from PHDs to music promos – but I specialise in marketing materials like emails, websites and mobile copy – all with attention-grabbing headlines.
I'm a digital expert too – I can write or optimise content to push it up the search results, and make your online content easy and enjoyable to use, no matter who or where your audience.

or get in touch
Experience
Professional Copywriter for a large international organisation
Former web designer, web editor and digital specialist
Extensive search engine optimisation (SEO) experience
Training includes:

Copywriting For Not-For-Profits (IDM)
Writing For Mobile (Sticky Content)
Advanced Online Copywriting (Econsultancy)
"Workshops Are Beautiful" data-vis workshop (David McCandless)
BA English Literature
I'm also proficient with Adobe's Creative Suite, and with DSLR filming including lighting, sound, editing and transcribing. I work remotely, or in and around Oxford.

or get in touch
Portfolio
Some examples of recent work:
A Comprehensive Beginner's Guide to Content Marketing
Editor, proofreader

"Organizations pursue content marketing for different reasons..."


Hinksey Park Football Club
Writer, designer, photographer, filmmaker

"At Hinksey Park Football Club ... we're friendly, inclusive and nurturing for boys and girls who want to play football, no matter what age."


Winston Gallagher: Producer/Director
Writer, designer

"Talented regional Producer/Director with extensive experience across a range of formats."


Series of Indian "pun" ads
Writer

"Tikka chance on me! Be the first in line: order online"


£6 billion down the drain
Writer

"Cannabis: let's legalise it, regulate it and tax it for the benefit of everyone."


The wealth of 8 billionaires
Writer

"1 in 10 people survive on less than $2 a day. Meanwhile, the world's 8 richest people..."


Therapy in Oxford
Writer, designer

"I'm a friendly therapist in Oxford offering counselling to help people understand themselves and their relationships better..."


Jo Cox email for Oxfam
Writer

"We're all thinking of Jo's family and friends. Many of us at Oxfam count ourselves among those friends."


Sierra Leone: Unbeaten by Ebola
Writer

"Ebola hit Sierra Leone hard, but now people are getting on with their lives with real hope for the future."


Stop Motion Handbook
Proof reader

Testimonials
"Al has responded to all my requests in a very timely and responsible manner. He delivered work of high standard and met my demanding deadlines, allowing me to focus on progressing with my writing. I would recommend his services to anyone."
– Konstantinos, PHD author

or get in touch
Thank you for considering me for your next project.
---
All the things

Creative




Challenges



Info


| | |
| --- | --- |
| Share this: | |
Page last updated in